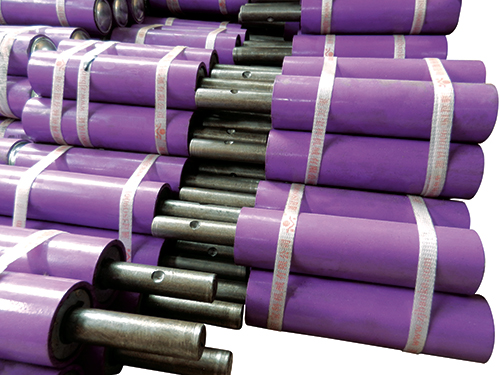 Roller welding-fitting-test line
---
This assembly line follows the tube processing. We design the special
fixtures,takes the method of "Direct Fitting, Locating datum'; Turn into theshaft, pressing the bearing and the bearing seat assembly. With the roller sends outside diameter for reference, directly position welding with tubeoutside diameter. Ensure the shaft of the accuracy and the precision of the
fixtures. To get rid of the usual roller assembly used in multiple parts order assembly, step by step way of positioning produced by the cumulative error. Finally to ensure that the products are precision requirement.
After welding, then, grease filling, seals fitting, retaining rings fixing and run-out check are production line completed. Radial run-out are automatically checked on control panel
Roller passing this check feature hight mounting precision, Iow interior stress and rotation drag as well as dependable quality, minimizing errors and instability resulted from manual operation and prolonging roller service life.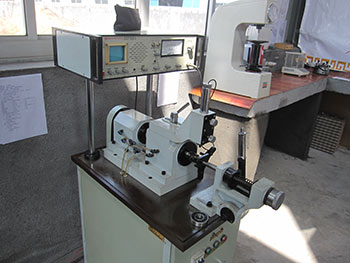 Housing processing line
---
The housing punched is fine-turned around the edges to improve precision and meet the tolerance at housing-tube fitting areas. This processing can better secure the accuracy of interference fitting of housing and tube. Bearing is press-fitted into finished bearing housing and they are welded as a set onto the tube.
Precise locating and fitting of bearing and housing together with welding result in accurate coaciality and Iow inner stress
and deformation out of heat.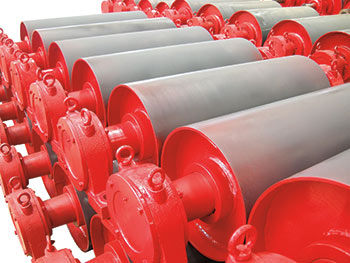 Painting and drying line
---
Slag, dust and grease will be removed form roller (surface treatment) after radial run-out check, Smoothed rollers are hanged on chained suspension conveyor and put into painting & drying system consisting of
electrostatic generator and drying oven.
The painting for rollers is corrosive-resistant with dried painting film hard, waterproof, greaseproof, acid proof, strongly adhesive
and elegant.
Tube processing line
---
The qualified tube is fed onto antomatic tube processing machine.After cutting,steel tube is edge—chamfered(antomatic cutter and turner)and blown clean inside with high pressure air.

Regarding the processing of tube surface on housing-tube fitting area,baoke machinery takes method'one point locating,multi-point machining'to improve precision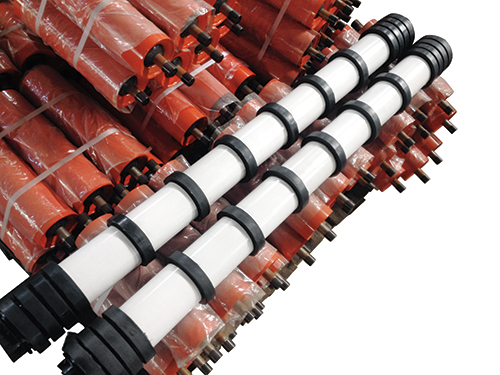 Housing punching line
---
Cold rolled steel sheet is fed onto punching machine through servo system. Housing is completed by way of sequel punching on the six machines connected to one another by manipulators (wacuum discs). Therefore, we are able to ensure high efficiency with macimun capacity production. Bao machinery uses inported mould and cold rolled steel sheet, and inner-radius e of housing is less than 0.019mm, which is much lower than mational standard value of O.04mm. All of the sic machines work under conditions of ser punching speed, capacity and grease volume so as to maintain the required plate thickness during processing, and thus it secures strength and tolerance of bearing housing. Punched housing are phosphorated to be rusproof in humidity.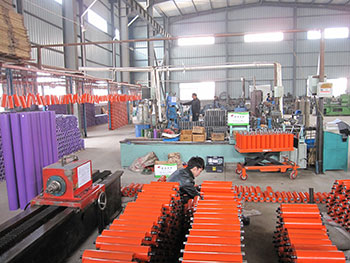 Shaft processing line
---
Baoke machinery take high-precision cold rolled round steel as roller shaft. The round steek is cut at required size and
positioned for center boring on both ends, grooving for retaining rings, shaft-edge chamfering and flats milling.
The whole process is automatically completed on the same position and it avoids big deviation out of repeated fixation
accordingly. Coaciality and cylindricity are much more competitive than the other manufacturer's.